It's been 12 years since SFU and UBC went head to head on a football field
Article content
Giulio Caravatta was upping the attendance ante for the Shrum Bowl mere minutes after the return of the gridiron grudge match between his alma mater SFU and the UBC Thunderbirds was confirmed Thursday.
Article content
"We're going to need more seats than that," Caravatta said in reference to SFU athletic director Theresa Hanson explaining that extra bleachers at their Terry Fox Field would bring capacity to 2,800 for their Dec. 2, 2022 matchup against UBC. 
That contest, which is at the end of regular season for both teams, will mark the first meeting between the football programs since 2010. 
"This is going to be a big deal. There's going to be a demand," Caravatta continued. 
Caravatta, a quarterback who went on to play for the B.C. Lions and is now an analyst on their radio broadcasts on AM 730, was at Thursday's press conference at the Lions' Surrey practice facility that announced UBC and SFU had committed to playing each other in exhibition football games the next two seasons.
Article content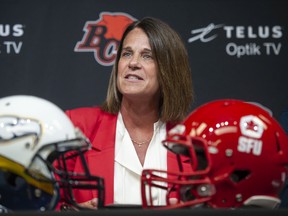 The Lions are now a presenting sponsor for the Shrum Bowl. This year's game will be played under American rules as SFU is the host, while the 2023 contest will be Canadian.
The T-Birds and SFU have played 33 times, beginning with their first meeting on Oct. 16, 1967. SFU holds a 17-15-1 all-time series lead. 
The game has routinely been the showcase event on both squads' schedules. In his last Shrum Bowl game in 1989, Caravatta and running back Sean Millington led SFU to a 41-27 win at Swangard Stadium before a crowd 5,419.
SFU averaged 1,248 fans for their two home games last season. UBC averaged 1,697 for their three home dates. 
Article content
"I think it is great for the football community," Caravatta said of the return of the Shrum Bowl. "I think it's great for kids who play high school football here and go either to SFU or UBC to get a chance to recapture some rivalries.
"More than anything, I think it is feeding the grassroots level of the game. You're going to get kids who are going to go to a packed stadium for a university game who are going to say 'I want to be a part of something like that.' 
"This will be the showcase game. Certainly. Whatever else you do in your regular season, this will be the game that you really want to win. You always remember the Shrum Bowl. Quite often, when I get together with my friends from our teams 30 years later, those are the games we talk about."
Article content
UBC, SFU and the Lions do have bold ideas here. The 2023 game will be hosted by UBC, and there's talk of holding the game at B.C. Place if they generate the interest, UBC athletic director Kavie Toor said.
"We think this can really take off," Toor said.
With that, you get the idea that the Lions plan to go the extra yard to help push this forward. New owner Amar Doman has talked up the idea of supporting all levels of amateur football across the province.
"They're significant investors," Toor explained of the Lions, although he didn't get into exact details.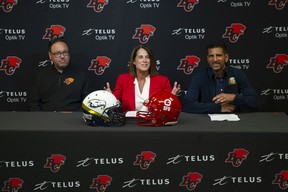 Toor, who took over the UBC AD gig in March 2020, and Hanson, who was associate AD at UBC for the better part of a decade before taking on the top job at SFU in 2015, have been talking about resurrecting the football game for some time. On April 17, 2020, Hanson told Postmedia that restarting the Shrum Bowl wasn't on the immediate agenda but believed it "could engage both campuses. It would be a big event and I think both schools do big events very well."
Article content
Toor was quoted in the same story as saying: "This may be the time to reignite the tradition. It might be a way to garner interest and attention."
Article content
SFU and UBC were league rivals in Canada West but SFU jumped to NCAA Div. II in 2010.
"I know the sentiment is that 'you should be doing this every year. It's a piece of cake.' It's not as simple as that when you don't play in the same conference and same organization," said Hanson. "To be able find a date, it works for us. There will be some challenges with weather and other things, but we know when it's going to be and we've got this agreement for the next two years. The goal, really, is to build from that."
SFU's regular season opens Sept. 10 and wraps up Nov. 12. UBC has its season opener Sept. 3. They're done the regular season on Oct. 29.
UBC finished 3-4 last season. SFU was 1-7.
SFU and UBC restarted the Buchanan Cup between their men's basketball programs last season as well. It was their first meeting since 2015.
UBC is coached by Kevin Hanson, who is married to Theresa Hanson.




Source link